AmaSing is an exciting Arts Organisation and Charity Foundation that provides exciting opportunities for children and young people.  AmaSing believes the Arts are for everybody to enjoy and take part in.

AmaSing is an inclusive organisation who works collaboratively with educational establishments including primary/high schools, colleges, universities, art specialists, arts organisations, hospitals and residential homes to develop and enhance children's wellbeing, confidence and self-esteem. It also supports professional development for teachers and training teachers in developing skills and opportunities to deliver singing, music and arts in the daily school curriculum.
Please click here for more about the Amasing Arts Charity. 
About AmaSing
It is committed to organising and developing exciting and inspiring community projects and performances linked with singing, music and arts. The company's activities provide a positive benefit to a diverse range of communities from a variety of backgrounds, needs and cultures. We have had fantastic feedback from all our projects so check out what people have said about us.
 Our Workshops and Performances
In our projects we run a series of exciting arts workshops open to all. These specialise in Music, Singing, Art, Drama, Dance and creative writing. AmaSing has had huge success with our concerts which have run for three years concluding at  professional venues such as  Storyhouse in Chester , The William Aston Hall in Wrexham and The Floral Pavillion in New Brighton. These celebratory concerts conclude the projects bringing  together wonderful community groups, schools and artists showcasing their achievements and talents.
AmaSing Aspire 2023 is a new exciting project reaching more schools throughout Cheshire, Wrexham, Flintshire and branching out to new areas Conwy, Denbighshire and Manchester.
Amasing 
 Over the three days there were more than 1000 children performing a selection of songs. Seven of the songs were brand new and many specially composed for the project. Two of the songs were written in aid of charities Young Minds Uk and Dementia UK. The children sung songs  supporting Chester Zoo's Palm Oil project and a song written by Matt Baker in aid of the Refugee crisis. The children were accompanied by a brilliant professional band led by composer Andrew Smith. Alongside the concerts we ran many different arts workshops for children, families, student teachers, teachers and the elderly developing skills and opportunities in music, art, dance and drama. There was an AmaSing Gallery in the Garrat Theatre exhibiting  inspirational art work which had been produced by the community in the workshops. 
Why are we doing this?
The projects will bring community cohesion and develop links between different groups from a variety of backgrounds, cultures and needs:
Allow participants to experience new exciting opportunities working with brilliant and talented art specialists and in doing this acquire new skills and knowledge.
Performances will support raising funds and awareness for important charities in the local areas.
The projects and performances will develop participants confidence, self- esteem, creativity and wellbeing.
Participants such as students and teachers will professionally develop and acquire new creative skills, understanding, and knowledge to teach singing, music, performance and composing in the curriculum. This will further support learning in schools and universities.
Amasing wants to open up arts and music especially singing to all children from all walks of life and show that through music that all communities can excel together to create something that everyone can be proud of.
To support schools and students to gain ArtsMark and Arts Awards
Rachael Borman
Director
AmaSing Projects CIC
Rachael is a primary school teacher who has specialised in music for the last twenty years. Having taught all age ranges throughout the key stages. Rachael is very fortunate to have taught in many different settings and seen the power of music and arts in supporting children to grow and flourish. She believes music and all arts are incredibly powerful tools in which children from all backgrounds and cultures can express themselves and develop emotionally, socially, academically and physically. Rachael believes it is essential to develop and promote arts in todays school curriculum inspiring children to reach their full potential and become strong , creative individuals who are confident to share their ideas and believe in themselves. Rachael is passionate about music and singing and because of this over the last five years have developed and ran many big sing projects with over 20 different primary schools in the local areas. Rachael has worked with a variety of arts specialists and seen how allowing opportunities for children and teachers to work with professional musicians and composers enhances their learning experiences and supports both teachers and pupils to develop skills, knowledge and opportunities that they would not have acquired in the normal everyday school curriculum.
Luke Gooding
Creative Director
Lumisi Ltd
Luke's areas of expertise are in the creation and development of brand identity, driven by a passion for graphic design and an extensive knowledge of producing artwork for all types of print production. Having setup and successfully ran his own design partnership in London since 1998, he relocated to the North West of England and subsequently merged the business to create Lumisi Ltd. Landmark projects include branding for StatPro Revolution on the NASDAQ tower in Times Square NY and launch event at the prestigious Tate Modern, a two year campaign for AmicusHorizon's the Lamborn housing development and marketing communications for Capital FM's; Help a London Child, Christmas Live from Earls Court and Party in the Park in aid of the Princes Trust. Luke's experience helping companies of all sizes to grow their brand awareness and build stronger campaign strategies through the use of creative graphic design based communications, has made him one of the most sought after designers in the area.
Tim Polding
Associate Director & Solicitor
Oliver & Co
Tim has 25 years experience as a business lawyer and joined Oliver & Co Solicitors in September 2009 to create and head up the firm's new Commercial department. Now firmly established, the department under my leadership is expanding to meet the need for legal services of its rapidly increasing client base. His involvement with clients focuses on acquisitions, management buy-outs and buy-ins, joint ventures, group restructuring and corporate governance, protection and exploitation of intellectual property, contractual frameworks (including franchising and distribution networks) and employment. Tim is always looking to provide added value to the businesses for which I act and adopt a practical and pragmatic approach to clients' commercial problems. My reputation is for working in partnership with my clients over many years to assist them in the growth and evolution of their business.
David Wearing
Principal Kelsall Primary School, Director Cheshire Leadership & Teaching Alliance, SLiCE (Specialist Leader in Cultural education), Curious Minds Trustee
David has worked at Kelsall Primary School for 14 years where he was integral to achievement of its outstanding Ofsted judgement. During that time he has been successful in securing Teaching School status for the school which was designated in cohort 2. Now Principal of Kelsall Primary, he established and directs the growing work of the Teaching School Alliance, working closely with CWAC (Cheshire West and Chester) local authority whilst maintaining and improving Kelsall Primary. He sits on the CWAC Education Improvement Board and is a member of the LCEP Local Cultural Education Partnership. His main areas of expertise lie in developing leadership at all levels and he is passionate about developing Teaching & Learning in all curriculum areas; particularly integrating the Arts into a broad and balanced curriculum offer. As a SLiCE David works alongside a range of cultural organisations to develop creative connections to benefit the pupils and staff in his own school and beyond.
James Borman
 Lecturer at Coleg Cambria, Quality Consultant for City & Guilds &  Director at AmaSing Projects
 James has worked in Further Education for 14 years and has developed links between AmaSing and local colleges.  James currently lectures at Coleg Cambria and works as a Quality Consultant for City & Guilds. Coleg Cambria's Further Education provision, including vocational and A Level programmes, was judged as 'Excellent' by Estyn, which means the college is currently the highest-performing college in Wales. James has a passion for music and is the drummer for a popular Chester cover band WhyTigerWhy. He supports and co-ordinates financial and administrative jobs for the organisation including running the online shop and updating the website.
Kelly Stevens
Creative Manager
AmaSing Projects CIC
Kelly trained as a professional dancer, gaining a first class degree in Dance from The University of Salford. Her training ranged from; musical theatre, commercial, contemporary, ballet as well as hoop and silk aerial art. Among being nominated for a 'Create Award' credited by her university, in 2019 she was Awarded 'Best contribution to the school of Arts and Media'. Her experience in education comes from working alongside various dance companies delivering classes, developing a social media presence, creating marketing strategies as well as video filming/editing. While based in Manchester Kelly worked with incredible artists producing projects and booking performing jobs from Scotland to London. Previously working for the The Lowry theatre as a dance ambassador she also had experience in co-ordinating events. Just recently she was also involved in the styling and production of a music video for an upcoming artist 'Amber Prothero'. Kelly is fuelled by igniting young peoples creative spark. She knows that the skills you develop when training in the creative arts are invaluable and completing transferable. Her commitment to the performance industry is rewarded when seeing her students accomplish their goals and truly believe in their talent! She will always strive to show people how important the creative industry is in building young people's confidence, as it played a huge part in building hers. 
Frances Dee
Singer
Frances attended the Catholic High School, Chester before completing Musical Theatre training at Bird College. She made her West End debut as Kristine in 'A Chorus Line' at the London Palladium, before joining the International Tour of 'Mamma Mia'. Other credits include 'Matilda' (West End), Hunyak in 'Chicago' (UK Tour), 'Our House' (UK Tour), 'Eugenius' (The Other Palace) and Liz in 'Chicago' (West End). Most recently, Frances played the role of Francisca in 'West Side Story' at The Royal Exchange, Manchester.
James Dee
Lead Guitar
James Dee is a Musician from the Wirral. He studied Music at Goldsmiths College London and has played for such artists as Jessie Ware, Ghospoet, Lucy Rose, Jamie N Commons and many more. With these artists James has appeared on TV shows such as Later with Jools Holland and Sunday Brunch, and has performed live on BBC Radio 1, Radio 2, and Radio 6.
Alex Dee
Saxophone
Alex Dee is a multi-instrumentalist and songwriter from the UK, playing and writing in a wide variety of styles. He performs his own material as well as re-interpreting the work of other songwriters and works as a session musician for a number of other artists in the UK and abroad
Paul Adams
Bass
Paul is a busy musician and teacher. His credits include everything from cruise ships to arenas, and everything in between. His playing has taken him to some of the most prestigious venues in the UK, including the London Palladium and Wembley Stadium, as well as playing large venues and festivals in the USA, and a number of European F1 circuits with some of the biggest names in UK entertainment.
Liam Hardwick
Drums
Liam is an established drummer, musical director, arranger and teacher from Chester. After graduating from Salford University, Liam went on to work as MD for several top tribute acts and function bands around Europe. Liam was fortunate to take his band, The Speakers around the world performing on Princess Cruises. He manages and plays in his own bands The Funky Doctors and The Celebrities. Liam is also a music teacher at the Chester Catholic High School whose choir are also performing in AmaSing Concerts.
Sophie Sterry
AmaSing Soloist
Sophie is 16 and has been singing since an early age. She is excited to be performing again this year with AmaSing. She has appeared on stage at The Wales Millennium Centre, Venue Cymru and St David's Hall Cardiff as part of The Only Kids Aloud Choir they also took part in The Roald Dahl Centenary Celebrations across Cardiff and The CBeebies pantomime Alice in Wonderland. In 2018, Sophie was chosen to work on the "Walk My Journey" project where she recorded a song and shot scenes across Chester and Salford. A short film was produced involving 700 Children from Cheshire and premiered at Chester Cathedral and was also shown at the RSC. She is currently a member The Hallé Youth Choir and regularly performs at The Bridgewater Hall, Manchester where she has sang solo. She is a member of Chester's Theatre in the Quarter (Quartz) Musical Theatre group and has recently started to train with the Welsh National Youth Opera. Sophie has performed with Chesters Tip Top Productions, most recently in their 30th year celebration concert "The Best of Times". Sophie hopes to continue singing as her chosen profession.
Ashley Fayth
Composer
Ashley's Songwriting in Schools program features a series of interactive workshops designed for children of all ages (primary school through to high school). It's inclusive, engaging, and lots of fun!
Ashley's children's songs have been featured in campaigns for Chester Zoo, the European Association for Zoos and Aquaria, and AmaSing. She has most recently released "Sing for Songbirds" and "Palm Oil Conga" as part of the Act for Wildlife conservation effort. Ashley has showcased at major music festivals including SXSW, CMJ New York, CMW Toronto, Liverpool Soundcity, Festival No.6, Kendal Calling, and Carfest. She has received songwriting awards from Universal Music and and the Canadian Songwriters' Association.
A natural front-man and flexible performer, Ashley offers a series of premium show options to suit the energy and atmosphere of your venue or event. Whether you're looking for chilled-out lounge/background music, or a high-energy dance set, Ashley's stunning vocals, lively guitar accompaniment, and expert showmanship will ensure a memorable bespoke performance that your guests will love.The Canadian singer and acoustic guitarist is based in Chester, England, and has toured across Canada, the UK, America, and Europe, and received awards from Universal Music and the Canadian songwriters' Association. She has performed live on various BBC programs, has had songs featured on BBC Radio 2 and other national radio and TV shows, and has arranged and performed on tracks which have charted in America and European radio.
Andrew J Smith MA, BA (Hons)
Composer
Andrew is a Manchester based composer, arranger and musical director who specialises in working for theatre, education and community and outreach settings. Signi cant recent compositions include: THE LONE STAR (Lizzie Ball & Sheffield Youth Orchestra, 2017); THE TWITS (Music in the Round, 2017); EARTHDANCE (Arr. Sefton Youth Orchestra 2017); THE MAGICIAN'S CAPE (Stockholm Concert Orchestra, 2017); GEORGE'S MARVELLOUS MEDICINE (Music in the Round, 2017); DANNY THE CHAMPION OF THE WORLD (Music in the Round, 2017); TALES OF CUMBERLAND (Cumbria Youth Orchestra, 2017); IF IT'S NOT LOVE (Manchester Camerata & MaD Theatre, 2017); OUT OF THE DARKNESS (Shef eld Festival Orchestra, 2017); TRENCH BROTHERS (HMDT Music, 2017); MACBETH (Manchester Camerata, 2017); IN MEMORIUM (Honour Choir, 2016); BACH'S TOCCATA & SOUTH YORKSHIRE'S FUGUE (Music For Youth, 2016); AN OPEN BOOK (Manchester Camerata & NHS, 2016); FLAME (Orchestras Live, 2016); FATAL DISTRACTION (Manchester Camerata & Cheshire Fire Service, 2016); TEN PIECES SECONDARY (BBC 2015); ON CHESTER ON (Manchester Camerata/Chester University 2015); RIGHT UP OUR STREET (Darts 2015); TEN PIECES PRIMARY (BBC 2014); Andrew is internationally recognised as a composer dedicated to working in music education and outreach. Most notably, Andrew has worked in Japan training musicians from Osaka's 21st CENTURY SYMPHONY ORCHESTRA, and with a particular focus on music and dementia. In the UK Andrew is a music consultant for BBC LEARNING and has written and reviewed content for BBC GCSE BITESIZE. Andrew was also composer and musical director of the 'El Sistema' inspired STOKE & TELFORD IN HARMONY ORCHESTRA, a project that seeks to inspire the lives of young people and their communities through the power of music making. Other notable successes include projects with Manchester Camerata; Opera North; The Royal Exchange Theatre; Orchestras Live; English Touring Opera; Northern Chamber Orchestra; Chester University and Jessie's Fund. As musical director and supervisor Andrew has credits featuring many of the region's theatres and television production companies BBC, ITV and Channel 5. Andrew is also visiting lecturer at The University of Chester and the full time MD of the Manchester Show Choir. Please visit www.ajsmusic.co.uk for more information on Andrew and his work.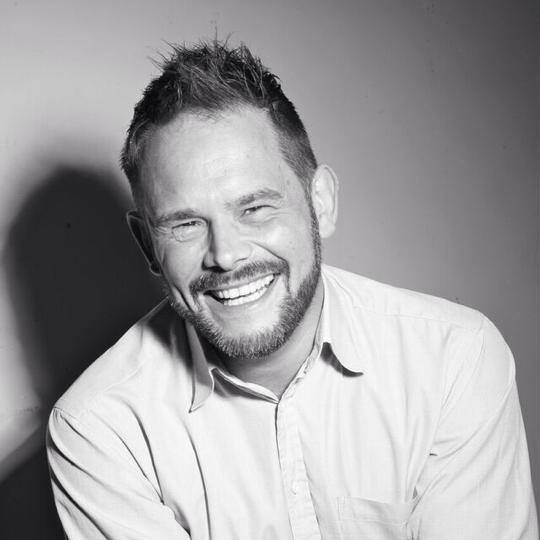 Matt Baker
Composer
Matt Baker is a multi-talented professional – with masses of music and theatre experience working with people of all ages from within the profession and in many communities. As artistic director of Theatre in the Quarter, musical director for A Handbag of Harmonies, composer of many theatre productions including Chester Mystery Plays 2003 – 2018, Chester Passion 2016 and 2017, professional actor and all-round entertainer, Matt is an extremely sought-after act. Matt's diverse musical composition credits range from large-scale choral works to intimate studio theatre pieces. His work as musical director has taken him to places as far as Melbourne and Delhi, Hong Kong and Dar Es Salaam, and he has appeared in television programmes for BBC and Yorkshire TV. Matt also runs corporate workshops of many scales, enabling teams of non-singers to get up and sing – in harmony and with choreography! The perfect team building experience Matt is artistic director and composer of this successful company which provides opportunities for professional, community and young people's theatre. Production highlights include:
The Lost Boy
Some Sunny Day Sweet Sixteen
Garden Lane The Musical Home For Christmas
James
Forgotten Fortress
Silent Night
Unsinkable Star of Wonder Opera of the Chester Giants A Christmas Carol
Handbag – The Musical The Snow Queen Alice Over by Christmas
Best Days Of Our Lives
Please visit www.mattbakermusic.co.uk for more information on Matt's fantastic work